---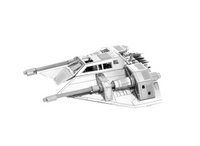 New
Fascinations Metal Earth Star Wars Snowspeeder 3D Metal Model Kit
The Metal Earth Star Wars models are amazingly detailed etched models that are fun and satisfying to assemble. Each model starts out as 4 inch square metal sheets and you simply pop out the pieces using wire cutters and follow the included directions to assemble your model. 
When stationed on Hoth, the Rebel Alliance modified T-47 air speeders to become snowspeeders, fast flying conveyances for patrol and defense of their hidden base. It took some doing to keep the crippling cold from permanently grounding their air force, but Rebel ingenuity overcame the relentless Hoth elements. 
The T-47 air speeder is a small, wedge-shaped craft with two forward-facing laser cannons. In its rear arc is a harpoon gun fitted with a heavy-duty tow cable. The snowspeeder is a two-man vessel, with a pilot and rear-facing tail gunner. 
The model is 1.25x3.25x3 inches when assembled. Difficulty level: Moderate. No glue or solder needed.
Gift Card Includes - Unassembled Model Easy to Follow Instructions

From Steel Sheets to Museum Quality 3D Model

Assembled size 1.25x3.25x3 inches

No Glue or Solder Needed

Ages 14+
Ships fast & free from Lake Forest, CA!