---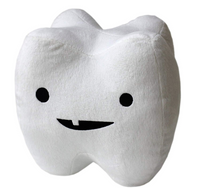 New
I Heart Guts Tooth Plush - You Can't Handle The Tooth
This happy plush tooth loves to smile. 
Our digestive system would be lost without these tough enamel nuggets crushing food in our mouths before it goes to the stomach. Humans enjoy a wide variety of tooth types, from wisdom teeth to canines, incisors to bicuspids. 
Makes a great mascot for any dentist office. 
Fun filled educational hang-tag offers wisdom and bite sized facts about your mouthful of little enamel nuggets. Don't forget to brush, floss and gargle! Safe for all ages. 
Designed in California, made in China. 
I Heart Guts happy organ plush toys make the perfect present for everything from a broken heart to a tummy ache. Whether you're getting your feet wet in anatomy or want to bone up on your physiology, I Heart Guts will bring a smile to your face and smarts to your brain. 
Flossin' Ain't Just For Gangstas. Adorable tooth friend wants to make you smile!

Sink your teeth into our hangtag, filled with bite-size facts + goofy artwork.

Super-soft tooth measures 7" tall x 7" wide x 4" thick.

100% polyester. Safe for all ages.

I Heart Guts plush organs will put a smile on your face and smarts in your brain
Ships fast & free from Lake Forest, CA!