---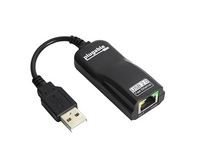 New
Plugable USB 2.0 to 10/100 Fast Ethernet LAN Wired Network Adapter for MacBook, Chromebook, Windows, Linux, Wii, Wii U & Switch Game Console
Add a fast wired network interface to your system. Supports Windows, Mac, Wii, Wii U, Linux, ChromeOS, and some Android devices. Compatible with Nintendo Switch when using the dock

Full 10/100 Mbps Fast Ethernet performance over USB 2.0's 480 Mbps bus. Faster than most wireless connections

ASIX AX88772 chipset for widest possible compatibility. RJ-45 port interfaces with any 10/100Mbps Ethernet network. Link and Activity LEDs. USB bus-powered

Windows 10, 8.1/8 and Surface Pro series have built-in support. Windows 7, Vista, XP supported by Windows Update, disk, and download. Drivers built in to Mac OS X 10.6 and newer, Linux kernel 2.6.35 and newer, Wii, Wii U, Switch, ChromeOS, and some other systems. Windows RT (SurfaceRT) Not Supported

Notes for Android device: Only compatible if your device manufacturer pre-installed necessary drivers into the device. Please use an OTG adapter if the Android device has a micro-USB port
Product description
Plugable USB 2.0 10/100 Fast Ethernet Adapter



Providing Fast Ethernet connectivity over USB, the Plugable USB 2.0 to 10/100 Network Adapter has a compact external design and wide compatibility with its ASIX AX88772 chipset. Two LEDs monitor power and link activity. Support for this adapter built in to Nintendo Wii and Wii U(no driver required). Wired Ethernet via this adapter would be able to provide faster and more reliable Netflix streaming, game downloads, and network access than the Wii's built-in wireless networking.

 





Common Use






Features





Technical Specifications






Chipset:

The USB2-E100 features an ASIX AX88772A chipset for fast 10/100Mbit network speeds and maximum compatibility with devices using a USB 2.0/3.0 port.

Driver:

32/64-bit drivers for Windows 10, 8.x, 7, XP. Drivers built into Linux kernel 2.6.35 and higher. Mac OS 10.6-10.12 supported.

In the Box:


Using Driver CD is optional. You can download the driver from Plugable Drivers page when needed.