---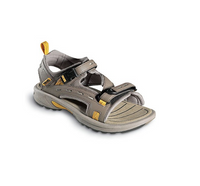 New with box
Teva Women's Sandals Kenetic Circuit Shoes in Walnut - NEW, Discontinued - US 7
These beloved shoes have been discontinued by the manufacturer, but are new in the box!
Kinetic Circuit sport sandals from Teva put all the performance of your best walking shoes in an open-toed, lightweight sandal package. As a bonus, they're engineered for comfort and foot health with curved rocker toe and heel for natural lift, a shock-absorbing heel pad and superior arch support.
Roll bar keeps feet from overpronating
High-traction rubber outsole
Agion® antimicrobial treatment
One-handed synthetic touch-fasten straps
Ships fast 'n free from Lake Forest, California!