---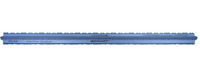 New
Westcott Grip and Rip Aluminum Tearing Ruler, Mountain and Deckle, 12"
Westcott Grip & Rip Aluminum Tearing Rulers create unique paper edges for crafts, card-making, rubber stamping & Scrapbooking. With the proper technique, gives paper a torn look lending texture and depth to any project. Top grip is scaled fro regular straight ruler use, and has metric and imperial scales for center o measuring.
Solid aluminum for heavy-duty use

Easy to use finger grip

Differing ripping patters on each side

Corrosion-resistant

Vinyl storage pouch
Ships fast & free from Lake Forest, CA!